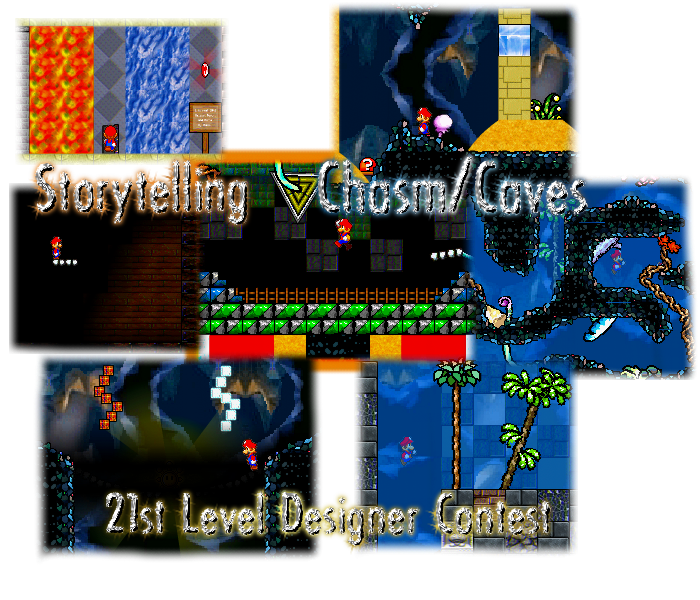 From top left, clockwise: Indecisive by Tune4Toons (6th place, 14.5/20), Quicksand Cave by zebtrestalala (4th place, 15.85/20), Sliverfall Cove / Marina Ruins by MessengerOfDreams (2nd place, 16.27/20), Deep Secret Paradise by lordpat (4th place in Cave, 7th place overall, 14.33), The Great Abyss by Volkove (3rd place, 15.93/20), Questions by Buff_ (5th place, 14.67/20).
Winner (centre): The Blind Experiment by ~MP3 Amplifier~ (16.83/20).
LDC Details
Edit
Number: 21st LDC
Name: Storytelling / Cave (Chasm)
Thread link:: Story here and Cave here
Vault Link: Story here and Cave here
Awards post: here
Number of Entrants: 14 (6 Storytelling, 8 Cave)
Number of Pages of Posts: 33 (12 in Story, 18 in Cave, 3 in overall results)
Contest Started: August 30th, 2012
Final Overall Deadline: October 7th, 2012 (38 days)
Results Posted: November 12th, 2012 (36 days from overall deadline)
Judges: (almost all judgings in the results post)
The backstory between this LDC being the first and only twin LDC is that it's quasi the outcome of the already longer-lasting rivalry of paradigms between story legend MoD and pure platformer master Buff. So, both of them hosted an LDC with their fondness as a theme, and both also were judges on their side, but: They were both forced to make an entry for the OPPOSITE site, Buff made a story entry and MoD made a platformer. Originally, MP3 was only supposed to judge only Story, but jumped in for Cave as Asterocrat and nin10mode both had to drop out.
Final Levels by Score
Edit
Place
Score
Side
Level
Designer
1st
16.83
Story
The Blind Experiment (miniseries)

~MP3 Amplifier~

R L
2nd
16.27
Cave
Sliverfall Cove / Marina Ruins

MessengerOfDreams

R
3rd
15.93
Cave
The Great Abyss
Volkove
4th
15.85
Cave
Quicksand Cave
zebtrestalala
5th
14.67
Story
Questions (miniseries)
Buff_ (Buffooner)
6th
14.5
Story
Indecisive
Tune4Toons
7th
14.33
Cave
Deep Secret Paradise (miniseries)
lordpat
8th
13.83
Cave
Kamikaze Chasm
Karyete
9th
13.16
Story
Autumn Valley (incomplete)
-BY (Blackyoshi)
10th
12.83
Cave
Craggy Grotto
Triple J
11th
11.7
Cave
Cavern Adventure
CrazyMario
12th
11.43
Cave
Chasm Cave
CaptainAmerica2
13th
11.17
Story
Shine Flower (miniseries)
KABOOM
14th
7
Story
Revenge of Dark Meta Knight (miniseries)
Kirbologist (Themagikoopaguy)
15th
 ???
who cares
Alive (miniseries?)
KevinOC
Of course, as this was the unique twin LDC, many comparisons and stats were made soon after the results. Cave was superior to Story with the overall better placements on top (getting 2nd to 4th), while Story had the grand ~MP3 Amplifier~ shining on Top. Both MoD and Buff_ were content with the outcome of their halves.
Though it was already clear at the beginning that no ribbons would be given out for the individual LDC's, it was debated if MoD was at 4 gold medals now and MP3 was at three. Officially only MP3's win counts, meaning that today both MP3 and MoD are the record winners with four golds each.
For all the following LDC's, we returned to the tradition of the host also announcing the results, after it has mostly been the cup defender before from the 12th until the 19th LDC.