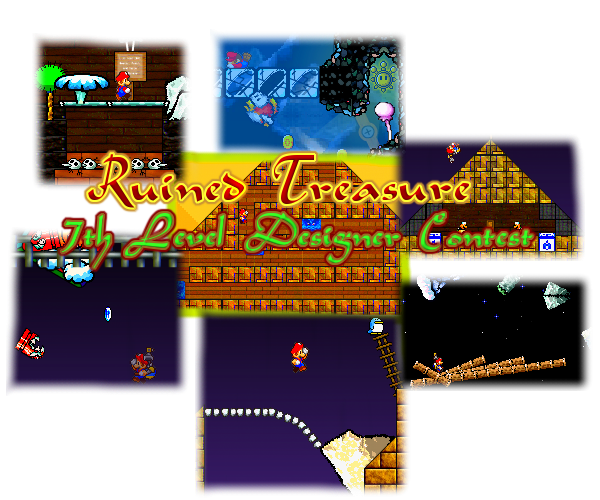 From top left, clockwise: The Empty Castle (series named by first level) by Aznchau4ever (6th place, 15/20), The Lost Treasure by MICrophone (3rd place, 16.75/20), Ruined Temple by Worst_master (4th place, 16/20), Treasure in the Atmosphere by MessengerOfDreams (5th place, 15.5/20), Temple of the Penguin God by Volkove (2nd place, 17/20), Explorer Guy and King Goombiard's Ancient Temple by zebtrestalala (4th place, 16/20).
Winner (centre): Blablob's Desert by Blablob. (17.25/20)
LDC Details
Edit
Number: 7th LDC
Name: Ruined Treasure
Thread Link: Here
Vault Link: None (before we started using vaults)
Awards Post: Here
Number of Entrants: ? (? Scored, ? Disqualified)
Number of Pages of Posts: 34
Contest Started: April 6, 2010, 8:01 am
Final Overall Deadline: May 2, 2010 (26 Days)
Last Extension Ended: May 5, 2010
Awards Posted: May 17, 2010 (15 Days from overall deadline) (correction on May 18)
Judges:
Final Levels by Score
Edit
Disqualified:
Note:
AniLo's level was posted by her brother, MessengerOfDreams. She was too young to have her own account at the time, though she would indeed get one years later. The fact that she was listed in the awards post as "My Sister" is the only proof we have that MessengerOfDreams was the author of the awards post, posing as Wario.
This is the first LDC to be hosted by a "Celebrity Guest" a.k.a. Wario - played by Suyo as he he explains in this post (it was an accident while messing around with forum code, that he was too lazy to fix, and then decided to have some fun).
This was one of many contests with a math SNAFU. MoD originally submitted the awards post as Wario, and had made a mistake in the calculations, which was later fixed, and then Worst_Master noticed that he had posted 2 levels, one of which was unfinished/disqualified, and Blablob didn't judge his corrected entry, so he had to judge THAT, and redo the calculations AGAIN, and Suyo updated the awards post. Hoo.