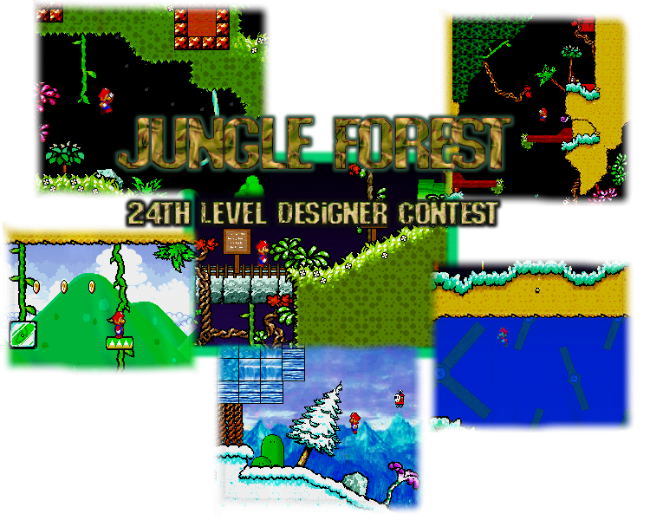 From top left, clockwise: Black Jungle Run by ~MP3 Amplifier~ (2nd place, 16.94/20), Ardam - The Magnificient Forest by DarkBlaze (5th place, 14.44/20), Twilit Forest by KABOOM (4th place, 14.56/20), Aeroforest::Initiation by Killswitch (3rd place, 15.94/20), The Quest for the Jungle Emerald by 1018peter (6th place, 14.19/20).
Winner (centre): Keel's Hatred and the Jungle Sprite by Ayrayen (17.38/20).
LDC Details
Edit
Number: 24th LDC
Name: Jungle / Forest
Thread link:: here
Vault Link: here
Awards post: here
Run by: Yoshi Boo 118
Number of Entrants: 20 (and Kevin did it again)
Number of Pages of Posts: 39
Contest Started: May 25th, 2013
Final Overall Deadline: July 1st, 2013 (37 days)
Awards Posted: July 20th, 2013 (19 days from overall deadline)
Judges: (all judgings are here)
Final Levels by Score
Edit
Place
Score
Level
Designer
1st
17.38
Keel's Hatred and the Jungle Sprite (miniseries)
Ayrayen
2nd
16.94
Black Jungle Run

~MP3 Amplifier~

R L
3rd
15.94
Aeroforest::Initiation
Killswitch
4th
14.56
Twilit Forest
KABOOM
5th
14.44
Ardam - The Magnificient Forest
Vesoralla (DarkBlaze)
6th
14.19
The Jungle Quest for the Emerald (miniseries)
1018peter
7th
13.88
Frozen Forest
JSlayerXero
8th
12.75
Plant Sky Pathway
Nwolf
9th
12.63
Floating Forestry
Cyvern
10th
12.56
Underground Forest (miniseries)
Yurimaster
11th
11.44
Foreverest (miniseries)
Dtroid
12th
11.25
Weedy-Bush World
Triple J
13th
11.13
Dark Forest
ChaosYoshi
14th
9.89
Into The Forest
youssef
15th
9.44
Thoughts
supermario123
16th
9.31
The Secret Gate to Shadowstream
WindMasterArceus
17th
8.75
Tarzan Mario
Americankid
18th
8.38
Penguin Forest
CrazyMario
19th
8.31
Skill Testing Forest
Puroo Kumar Roy
20th
3.19
Enter the Ice Forest
Creeper46
This LDC's winner is probably the one who earned it most by heart, and with the most emotional story. After being gone from the LDing scene for a very long time and speaking a lot about depression and suicide in Serious Discussion, he came to make one of the most detailed, professionally executed story series of all time, winning with a marvellous 17.38. It was the last 17+ score until the 29th LDC.
MP3's Black Jungle Run was the highest-scoring LDC level that was not entered into WITBLO, mostly upon her own request.
This was the first time after the 11th LDC that an LDC started more than two months after the previous one ended. For a long time, one LDC kept chasing the other, but from now on, there should be longer gaps between LDCs.