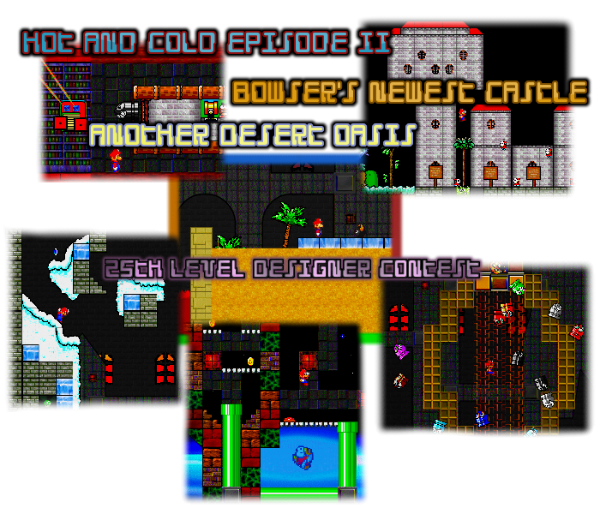 From top left, clockwise: Freezeflame Fortress by 1018peter (6th place, 16.01/20), Sympathy for the Devil by MessengerOfDreams (2nd place, 16.93/20), Final Fortress by Volkove (4th place, 16.25/20), A Dinch of B by -BY (5th place, 16.19/20), Bowser's Icy Stronghold by Doram (3rd place, 16.26/20).
Winner (centre): Bowser's Forgotten Castle by Nwolf (16.98/20).
LDC Details
Edit
Number: 25th LDC
Name: Hot and Cold Episode II / Bowser's Newest Castle / Another Desert Oasis
Thread link:: here
Vault Link: here
Awards post: here
Run by: Asterocrat
Number of Entrants: 18
Number of Pages of Posts: 28
Contest Started: August 3rd, 2013
Final Overall Deadline: September 12th, 2013 (40 days)
Awards Posted: September 25th, 2013 (13 days from overall deadline)
Judges: (all judging posts except Volkove's are linked below the results post)
This was another jubilee LDC with a very special theme. With the themes of the first three LDC's being offered, this gave a possibility to rewrite history. Participants had to pick at least one theme to make a level for it, but some of them did two or even all of them.
Final Levels by Score
Edit
Place
Score
Level
Themes Used
Designer
1st
16.98
Bowser's Forgotten Castle
all of them
Nwolf
2nd
16.93
Sympathy for the Devil (miniseries)
all of them

MessengerOfDreams

R
3rd
16.26
Bowser's Icy Stronghold
BNC, Hot and Cold

Doram

W R L
4th
16.25
Final Fortress (miniseries)
BNC
Volkove
5th
16.19
A Dinch of B
BNC
-BY (-KT)
6th
16.01
Freezeflame Fortress (miniseries)
Hot and Cold
1018peter
7th
15.75
Mario's Escape (unfinished miniseries)
BNC

~MP3 Amplifier~

R L
8th
15.51
Caged Oasis Redux
Oasis
MICrophone
9th
15.01
Bowser's Blazzard Castle
BNC, Hot and Cold
Triple J
10th
14.03
Temperature Vengeance (miniseries)
Oasis, Hot and Cold
Karyete
11th
14
Nightmare Devourer
Hot and Cold
JSlayerXero
11th
14
The Bowser Space Castle
BNC
endlessjourney012
12th
13.93
Bowser's Space Castle (unfinished miniseries)
Hot and Cold
Dtroid
13th
13.56
Ice-Fire Temple
Hot and Cold
Timi
14th
13.25
Desert Skies
Oasis
KevinOC
15th
12.9
Heat-Wave
all of them
Sprocket
16th
12.13
Cause and Effect
Hot and Cold

*Emelia K. Fletcher

R
17th
6.88
Slippery Volc
Hot and Cold
Yoshi NNB
Yurimaster had his first time to judge, and in doing so, he did not round to the nearest quarter. This actually produced the smallest margin between places possible, only ONE HUNDRETH between Doram and Volkove! The first-to-second margin was also only 0.05 points, the second smallest in history, and it came from MoD himself who gave a 17.5 to Nwolf instead of an originally intended 17.25. Another ironic reference to the even closer results in the 16th LDC is that Sympathy for the Devil is Destination's sequel.
Also Yuri was supposed to be only backup at first, but became full judge after Mega's dropout, and after people waiting for him to finish, right before the results, he made a small dramaspace prank and said "Damnit I need to make a sig to make this drama space after the false sig". Therefore he indeed got a sigbar by MoD which can be still seen in his sig.
Sympathy for the Devil is the first entrant with a hidden bonus level that was not put in the Vault, but had to be find by a link in one of the level's signs. This procedure MoD repeated in the 27th LDC, with not much hiding but with even two further levels.
Furthermore, the trophies and ribbons were redesigned by Star king, and handed out for the first time in this LDC (and the old medals being changed as well of course).
MP3 finished her 7th place entrant into the Mario and Luigi's Great Escape series and it placed 4th in the WITBLO13.