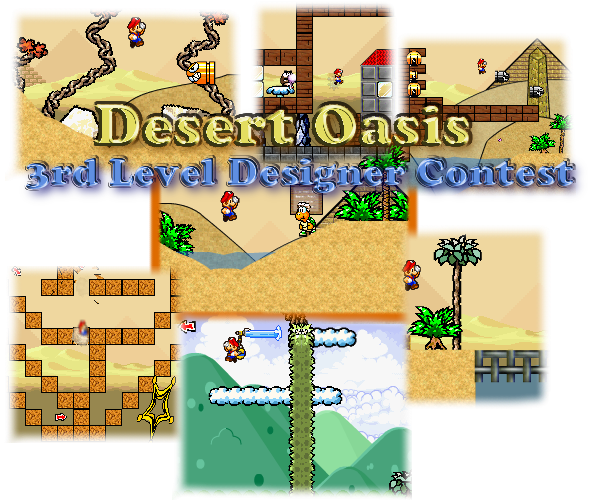 From top left, clockwise: Hidden Oasis by Krazy321 (2nd place, 16/20), The Two Oases by Aznchau4ever (3rd place, 15/20), Desert Oasis by 24murph (2nd place, 16/20), Caged Oasis by MICrophone (2nd place, 16/20), Secret Within The Desert Sands by Volkove (2nd place, 16/20), Dry Dry Desert by Trogdor (3rd place, 15/20).
Winner (centre): Arid, Arid Desert by fourinone. (17/20)
LDC Details
Edit
Number: 3rd LDC
Name: Desert Oasis
Thread Link: Here
Vault Link: None (before we started using vaults)
Awards Post: Here
Run by: Superyoshi (Suyo)
Number of Entrants: 21 (19 Scored, 2 Disqualified)
Number of Pages of Posts: 13
Contest Started: August 28, 2009
Final Deadline: September 13, 2009 (16 Days)
Awards Posted: November 8, 2009 (56 Days)
Judges:
Final Levels by Score
Edit
Again, the score list was stored off-site, and is now lost to the mists of time. All we have left of the scores is from the awards post:
Also entered:
Posted after the deadline (Disqualified):
This is the first contest where posts were properly placed in the contest thread by the entrants.
It is revealed in this post that, at the time, the only people allowed to host an LDC were Niklaw (Demonik), Superyoshi (Suyo), and

Runouw

R L.
This contest also started the age-old tradition of complaining about how long judging was taking... for at least 3 pages...