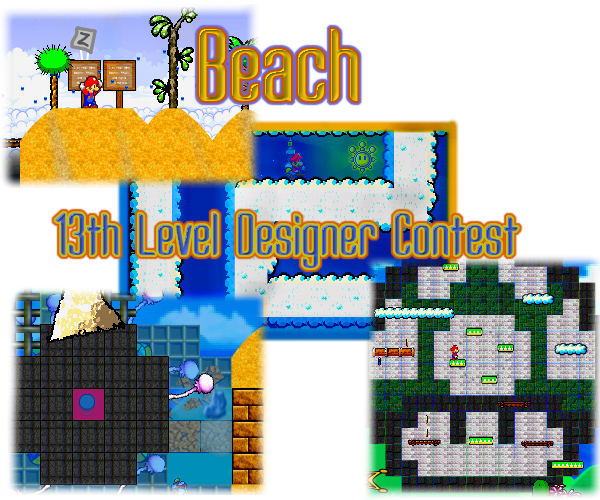 From top left, clockwise: The Islands of Tuvalu by NanTheDark (4th place, 14.5/20), Survivor by AwesomeJRFD and Asterocrat (3rd place, 16.25/20), Secret Beneath the Sands by Volkove (2nd place, 16.75/20).
Winner (centre): Impossible Treasures by Doram (17.13/20).
LDC Details
Edit
Number: 13th LDC
Name: Beach
Thread Link: here
Vault Link: none (before we started using vaults - Entrant recap, without Sk/JRFD and Volkove)
Awards Post: here
Number of Entrants: 7 (plus one disqualified)
Number of Pages of Posts: 37
Contest Started: May 13th, 2011
Final Overall Deadline: June 20th, 2011 (38 days)
Awards Posted: July 5th, 2011 (15 days from overall deadline)
Judges:
Final Levels by Score
Edit
Disqualified
Edit
Level
Designer
Reason
Search The Night in 7 Continents

~MP3 Amplifier~

R L
didn't fit the theme, MP3 missed the spoiler stating the theme in the OP
This was the third consecutive LDC with a low amount of entrants, and some discussions about a fundamental crisis were going on. Luckily, things got better very soon afterwards.
Zunar's 19.5 score for Doram marks the highest single score of a judge ever given out, along with MoD's Dark also receiving a 19.5 in the 18th LDC. Doram's level Impossible Treasures, based around poems and alternative missions, is also the winning entry with the lowest x-length so far (its dimensions being 100x50).
MP3's disqualification for not fitting the theme by mistake is unique in the way that it is the only disqualification of a later LDC winner.