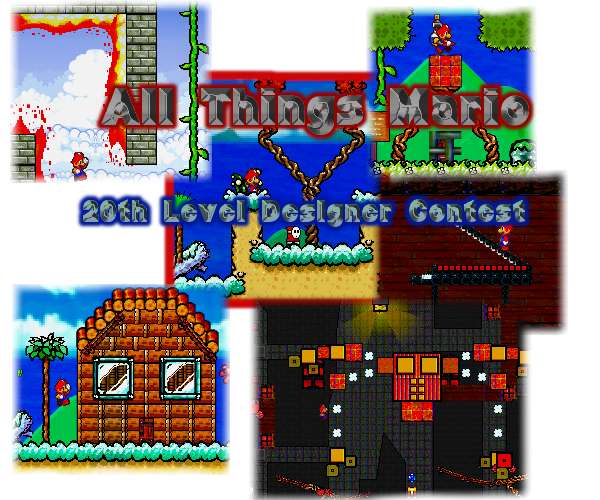 From top left, clockwise: Not Tubular by Kirby859 (6th place, 15.75/20), The Untold Story by SuperMIC (2nd place, 17.63/20), Big Boo's Rainbow Road by Nwolf (4th place, 16.81/20), Super Mario Adventure: The Mirror Island by ~MP3 Amplifier~ and Asterocrat (3rd place, 17.38/20), Yoshi Mania by -BY (5th place, 16.18/20).
Winner (centre): Shyguy's Island by Buff_ (17.69/20).
LDC Details
Edit
Number: 20th LDC
Name: All Things Mario
Thread link:: here
Vault Link: here
Awards post: here
Number of Entrants: 27
Number of Pages of Posts: 38
Contest Started: May 22nd, 2012
Final Overall Deadline: July 12th, 2012 (51 days)
Awards Posted: August 22nd, 2012 (41 days from overall deadline)
Judges:
Final Levels by Score
Edit
Place
Score
Level
Designer
1st
17.69
Shyguy Island
Buff_ (Buffooner)
2nd
17.63
Timpani and Blumiere: The Untold Story (miniseries)
SuperMIC
3rd
17.38
SMA: The Mirror Island (miniseries)

~MP3 Amplifier~

R L and Asterocrat
4th
16.81
Big Boo's Rainbow Road
Nwolf
5th
16.18
Yoshi Mania (miniseries)
-BY (Blackyoshi)
6th
15.75
Not Tubular
Kirby859
7th
15.25
Madness Garden Galaxy
lordpat
8th
14.7
Nostalgia World (miniseries)
Harmless
9th
14.44
Grey Garden Station
Vesoralla (DarkBlaze)
10th
13.94
Inscious Memoriam (miniseries)
BrawlerEX
11th
13.138
Winter Land
CrazyMario
12th
13.06
Mario's Trip To Runouw (miniseries)
Bomberman101
13th
13
Silver Star Galaxy
Canine
13th
13
Snow Cabin
ZealousMark
14th
12.65
Super Mario Bros. and the Mystery Power (miniseries)
Luinikex
15th
12.19
Coast Travels
GMDragon11
16th
11.19
Bowser's Lava Lake
MushYoshi
17th
10.88
Super Mario Master Quest
Cordelia (Dage the Good)
18th
10.41
Whomp's Fortress
cedrico2k
19th
10.31
Flying amongst Mario 3!
WindMasterArceus (Arceus79)
20th
9.88
Bowser's Castle
Yoshi999 (~Yoshi~)
21st
9.75
bowsers castle
blazeron1
22nd
9.31
The Lost Level of Super Mario 63
Pedalpowerluigi
23rd
9.13
Mario Generations (miniseries)
Kirbologist (themagikoopaguy)
24th
8.63
Perpetual Testing Initiative
Discord
25th
5.88
Bowser's Giant Castle of Fire
spikebot8
26th
4.98
Super Mario Bros. Final (miniseries)
cedrico2k's brother
An LDC for history - the records tumbled serially, even without the legends MoD and Volkove. Highest second place, highest third place, highest fourth place, all beating many winners of others LDC, and probably most importantly, the biggest crew of competitors with 27 in total (due to no disqualifications).
As the jubilee LDC, it was celebrated with everything being focused around Mario and his universe. Therefore the theme (make a level with references to Mario games, by landscape / atmosphere, or create your own Mario adventure), and the host / judges also being Mario and his crew, all with their very own linguistic peculiarities. And, as stated above, this jubilee LDC was an incredible success.
To make it even more awesome, we had all kind of funny, ironic and beautiful stories for LDC's you can imagine. Buffooner beating out two large and ambitious level series with the best acclaimed pure platformer in history, Nwolf getting 4th AGAIN (and being outspokenly unamused about it), and the rising star -BY placing in his first contest, and Kirby859 snagging a very surprising 6th place ribbon.